Série: Jane and the Moon - pohádky s gramatikou a slovíčky
Jane and the Moon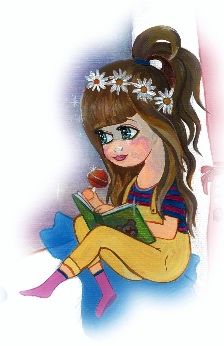 Once upon a time, there was a little girl. Her name was Jane and she loved the Moon. Every night she sat by her window and talked to the Moon. And each time the Moon told her a bedtime story. She liked every story, but she wanted more. So she asked the Moon if he could tell her some more.
"Dear Jane", said the Moon, "there are many stories around the world. Even I don't know them all. But if you learn to read, you can read them yourself."
"Oh, dear Moon, can you teach me to read?" Jane asked.
"Of course, we'll start tomorrow."
Little Jane was so excited the whole day that she could not even play in the garden. Finally the day ended and the Moon was shining bright with all the little stars around him. Jane went and sat on the pillow at the window and looked up at the sky.
"Are you ready, little Jane?" asked the Moon.
"Yes, yes…I am."
So the Moon started with the letter A and the stars started dancing and then made the letter A. Then they made B and then C. By the end of the night Jane knew the whole alphabet. She was so happy! After breakfast, she went to look for a book to read. All the books were dark blue, brown, or black, but she found one colored like a rainbow. She opened it and started to read. The book was full of stories about love and happiness. She loved it so much that she finished it by the time the first star was up in the sky. Since then she was the one who told the story every night and the Moon just listened and smiled.
VOCABULARY
once upon a time - bylo, nebylo
bedtime story – pohádka na dobrou noc
alphabet – abeceda
since then – od té doby
by the time - než